Custom Made 360 Wave Brush Gift Sets King Scorpion 360 Custom Made 360 Wave Brush Plus Reversible Multi Color Velvet Du-Rag/Do-Rag/Turban/Hair Wrap
KSL-41FIR-LH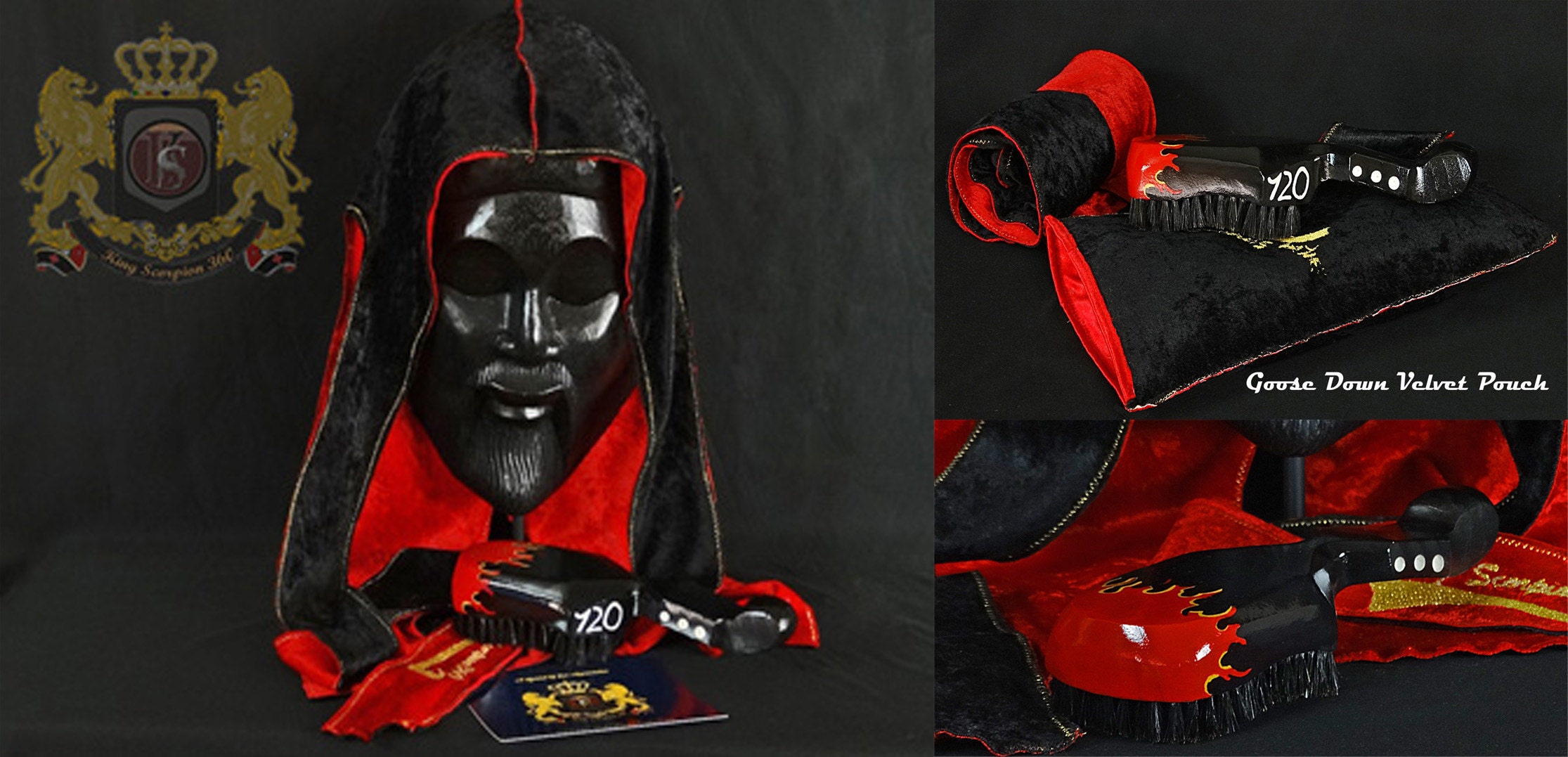 100% Natural Pure Black Asian Boar Bristle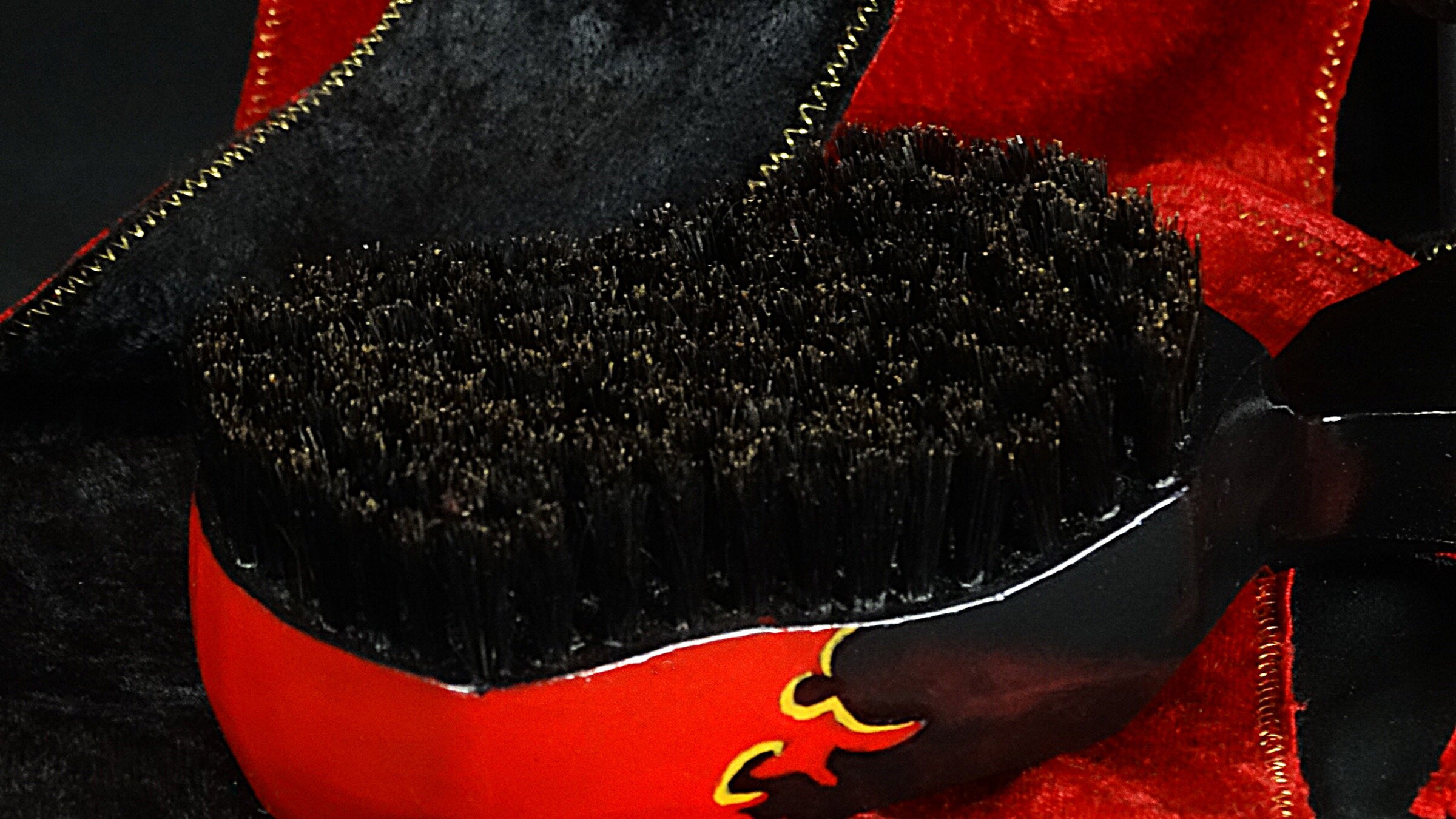 12 Row Medium Tight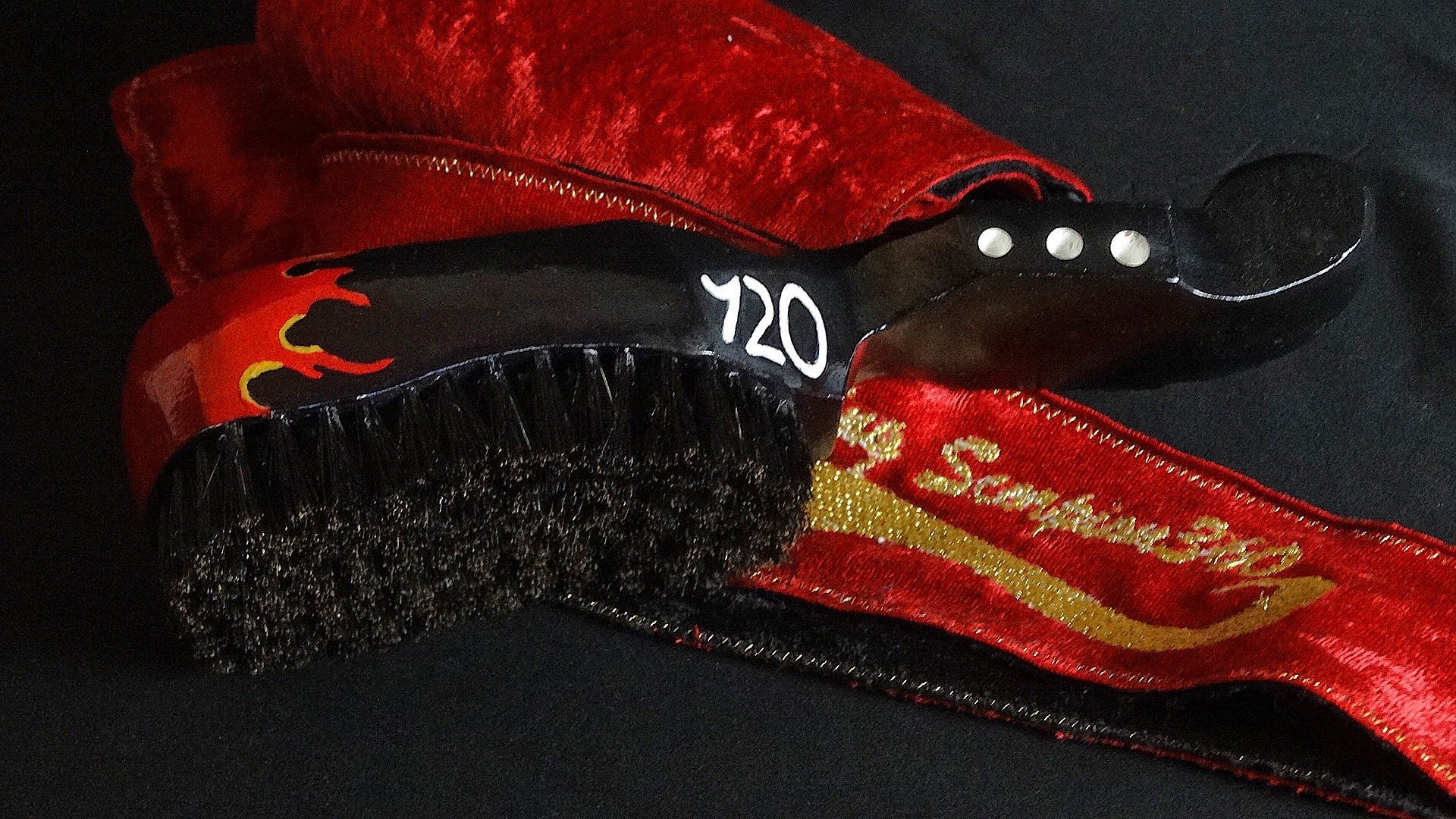 Goose Down Velvet Pouch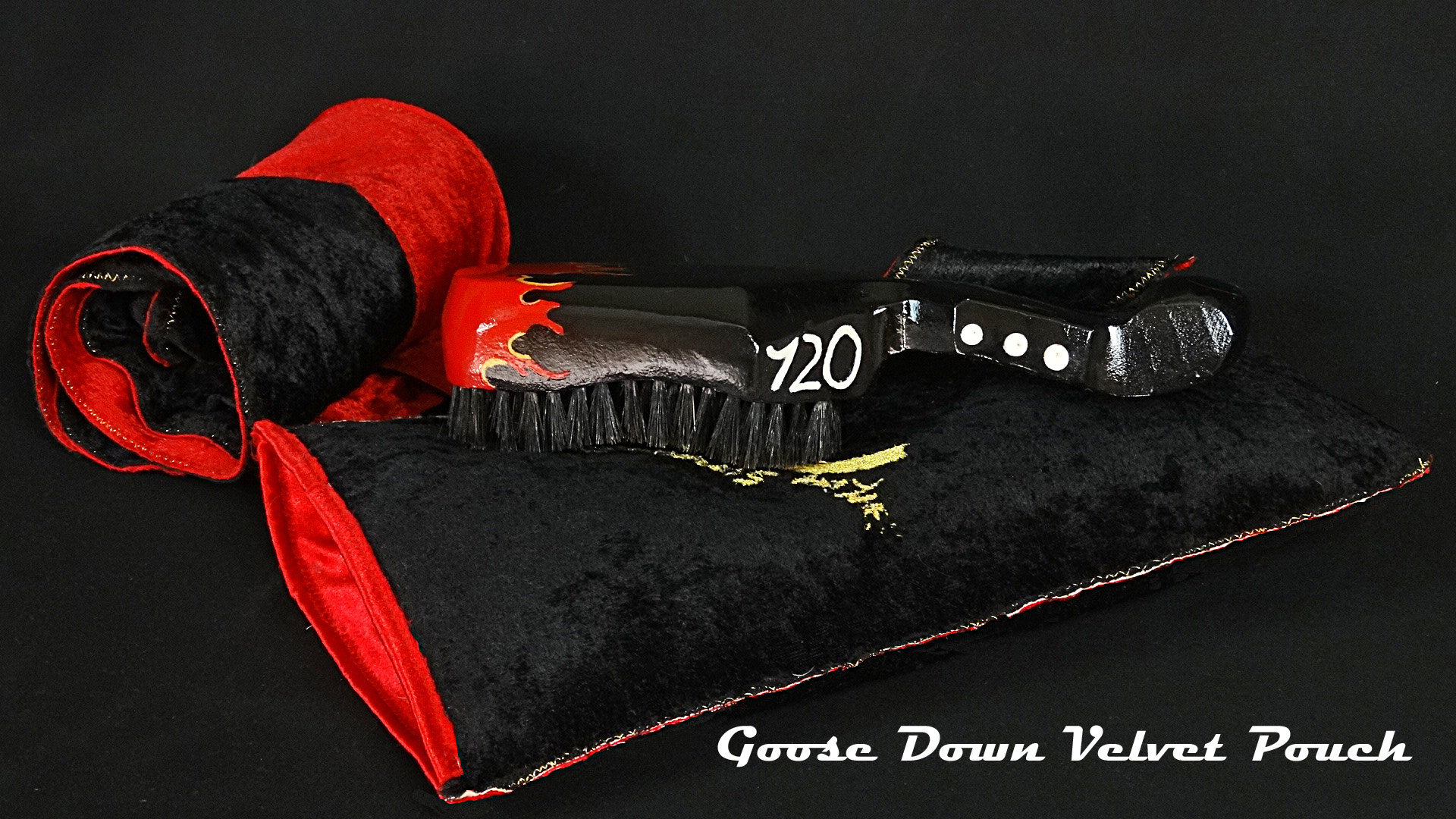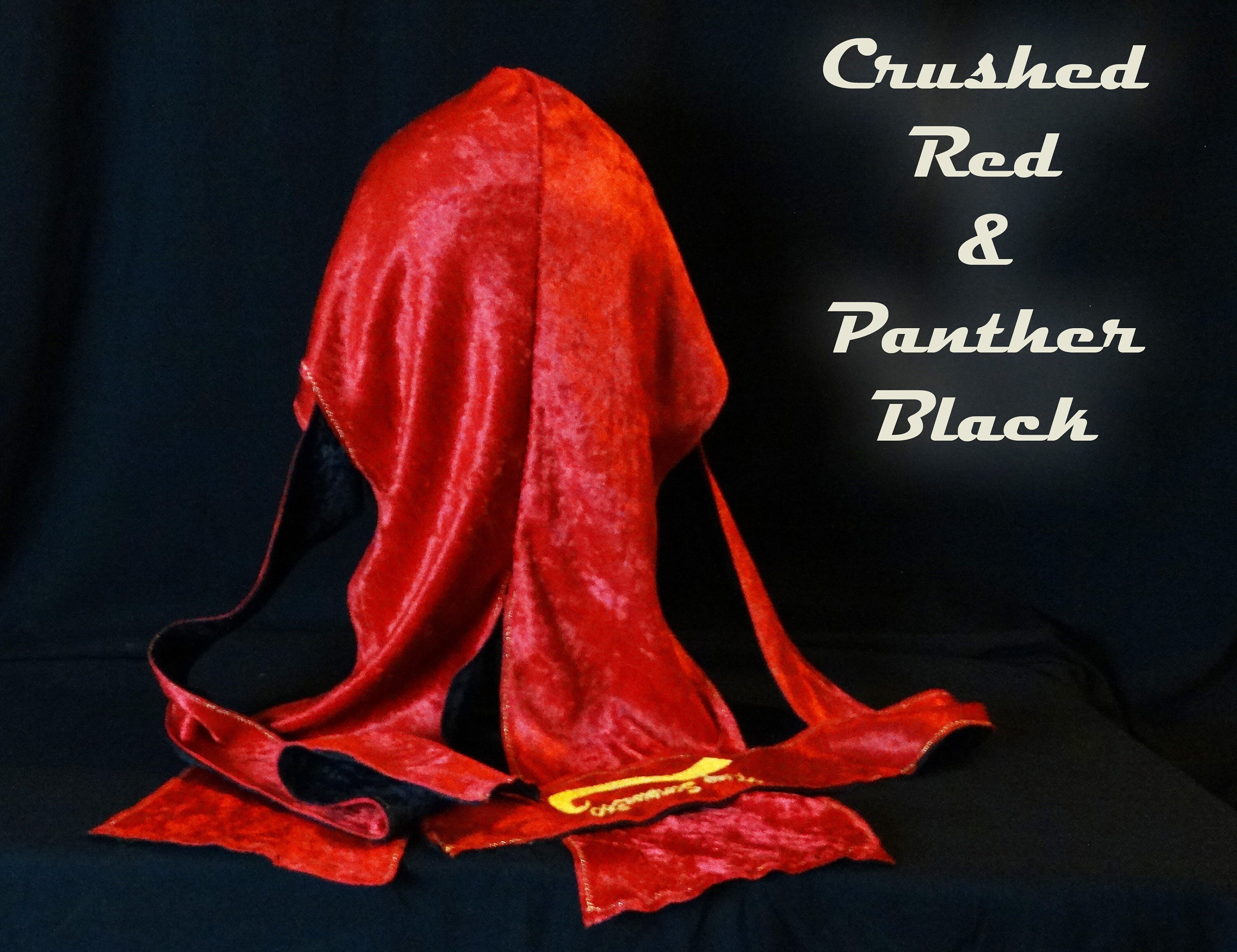 King Scorpion 360 Wave Brush (12 Row Tight) 360 Wave Brush + King Scorpion 360 Reversible Velvet Du-rag + Goose Down Velvet Pouch
  King Scorpion 360 Wave Brush (12 Row Tight)Custom 360 Wave Brush + King Scorpion 360 Multi Color Reversible Velvet Du-rag + Goose Down Velvet Pouch
PACKAGE CONTENT: 1# KING SCORPION 360 WOOD HAIRBRUSH 1# DOUBLE SIDED LARGE 38" FAT LACE CRUSHED VELVET DU-RAG - 1# NEW STRINGLESS GOOSE DOWN VELVET POUCH 1# 1 YEAR LIMITED WARRANTY CERTIFICATE PACKAGE IS INSURED HIGH VALUED ITEMS MUST SIGN FOR PACKAGE UPON DELIVERY
BRISTLE STRENGTH - MEDIUM
BRAND: KING SCORPION 360 WAVE BRUSH 12 ROW
MATERIAL: WOOD, 100% BOAR BRISTLE, VELVET
COLOR: BLACK/RED/YELLOW/WHITE
GLOSS FACTOR: HIGH GLOSS
ROWS: 12
PACKAGE WEIGHT 1 POUND
LENGTH 9"
WIDTH 3''
HANDLE LENGTH 4" 1/2
WARRANTY: 1 YEAR
PACKAGE INSURED: YES (MOST SIGN FOR PACKAGE UPON DELIVERY)
KING SCORPION 360 CRUSHED DOUBLE SIDED VELVET DU-RAG PANTHER BLACK & CRUSHED RED
 00289NDNB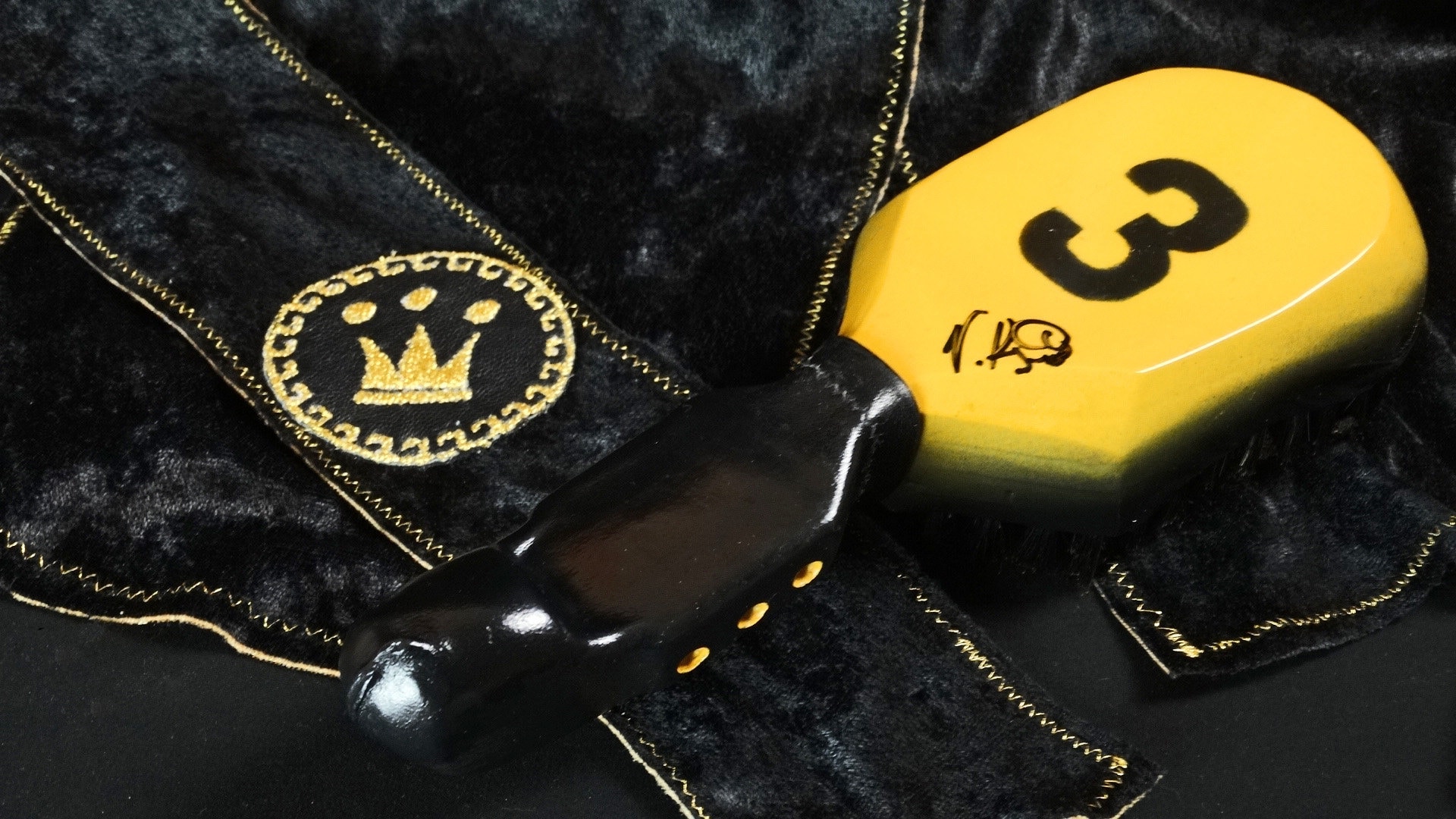 or without Leather Grip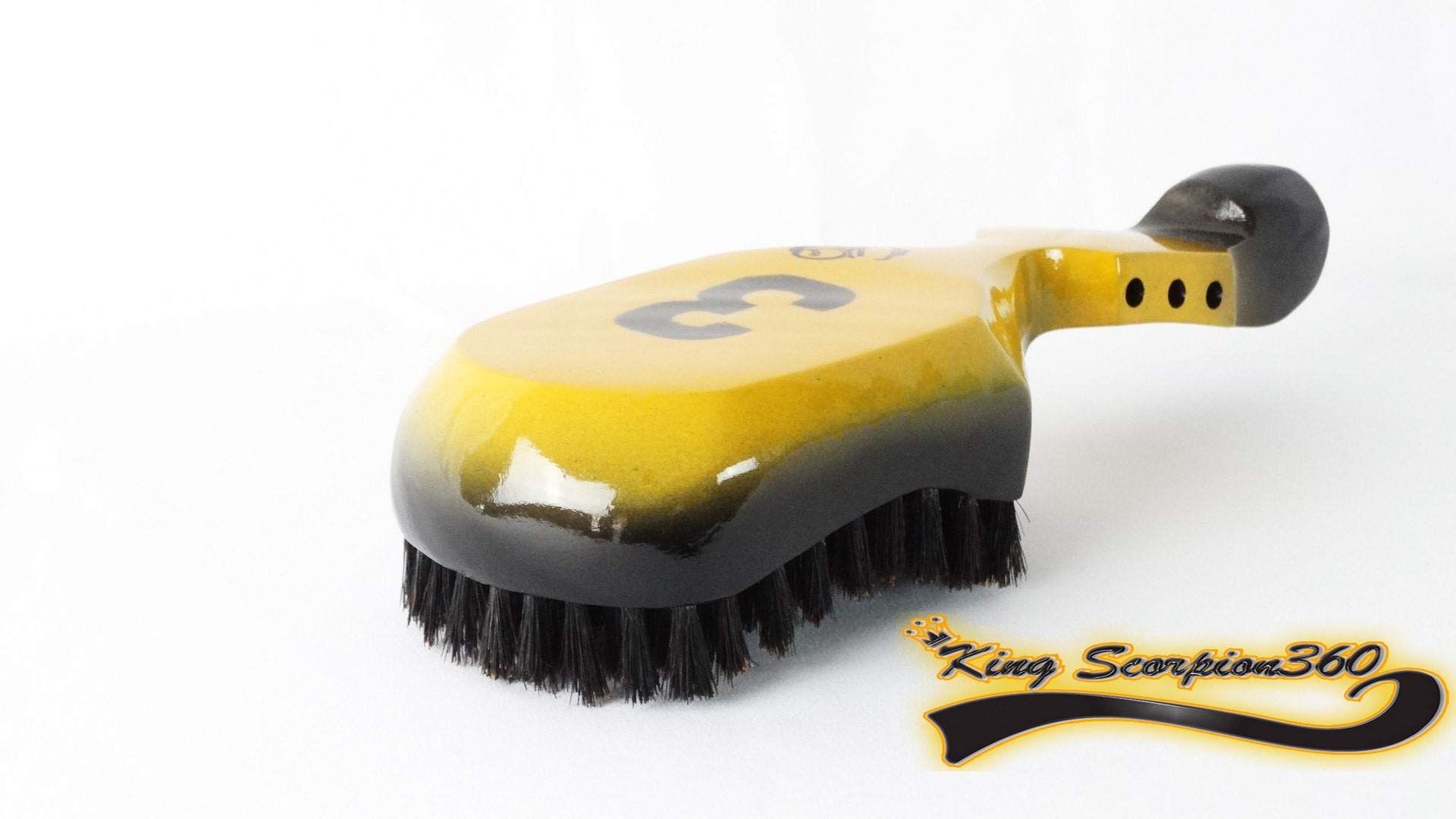 10 Row Loose Medium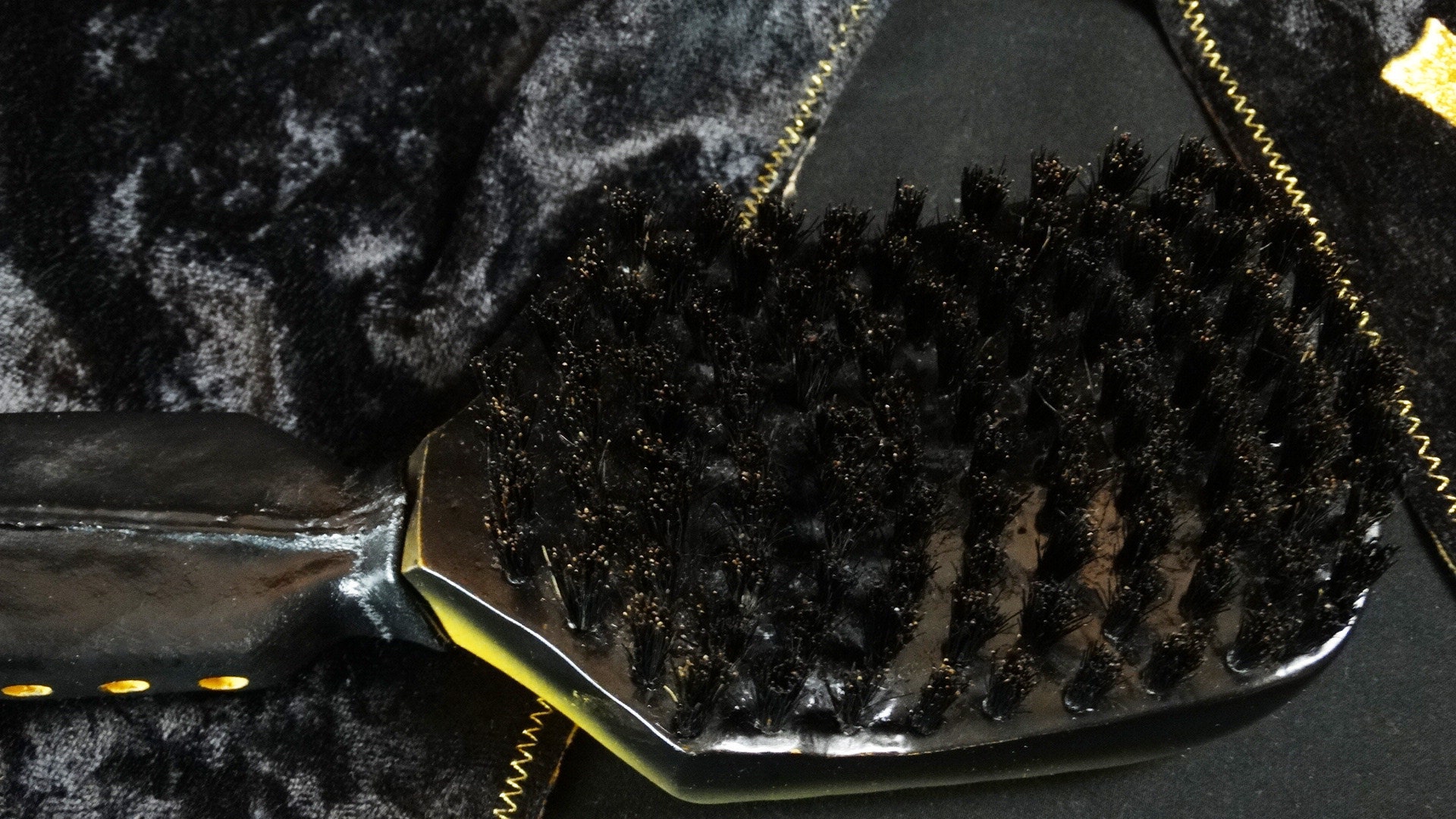 Reversible Multi Color Velvet Du-rag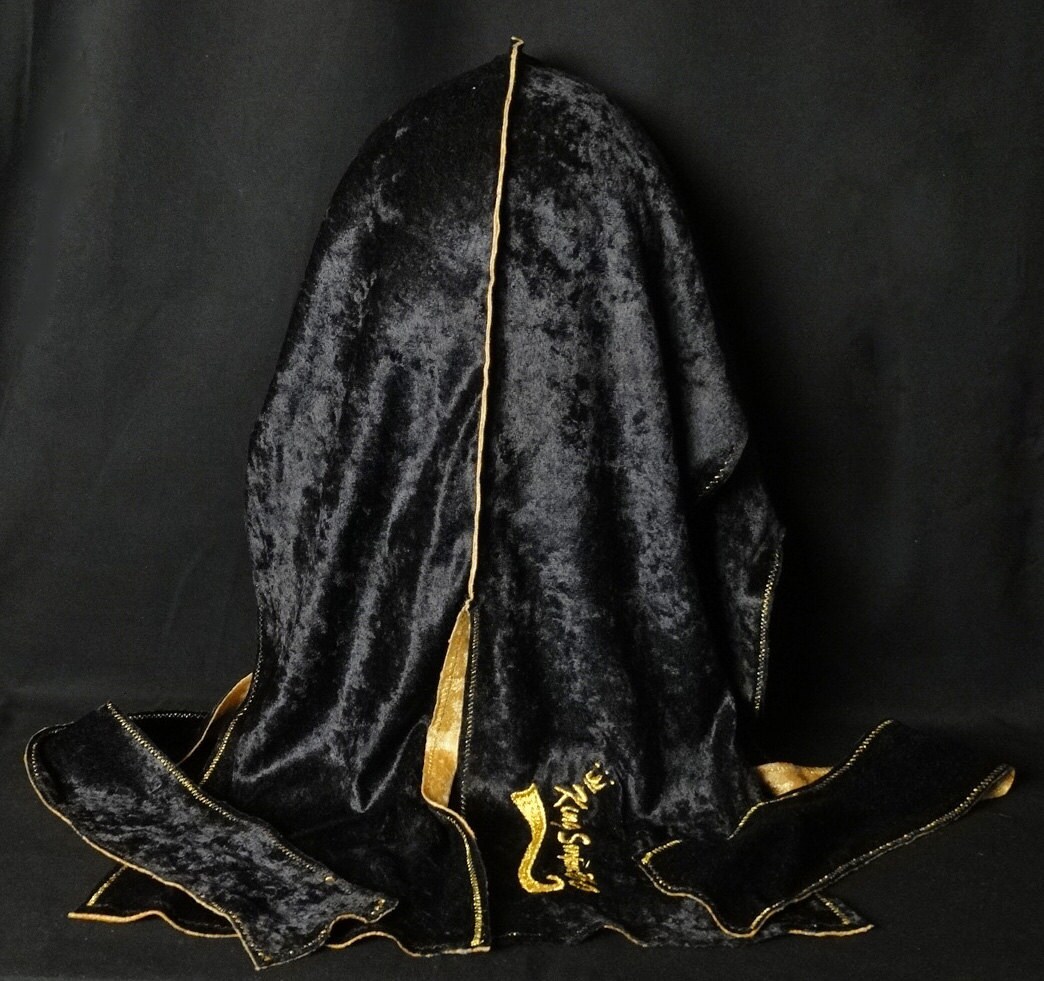 KING SCORPION - 360 Crushed Velvet Fat Lace Custom Du-Rag/Hair Wrap/Turban/Do-Rag - 10 Row King Scorpion Custom 360 Wave Brush Gift Bundle
 King Scorpion 360 Custom Wave Brush Gift Bundle - Fat Lace Reversible Velvet Multi-Color Du-Rag Plus King Scorpion 360 Custom Made Wave Brush.
PACKAGE CONTENT: 1 King Scorpion 360 Custom 360 Wave Brush Medium 10 Row. By V. Knight.
Brush Custom Color: Kings Gold/Black Rows: 10 Row Curve Logo: Glow Effect 3 - Charge in Natural Light for Glow Effect
Hair Brush Type: Long Handle Curved 360 Wave Hair Brush Bristle Strength: Medium Bristle Quality: 100% Natural Boar Bristle Handle: Genuine Leather Color Black Weight: 8oz MPN-00289NDNB
1 New King Scorpion 360 Custom Reversible Crushed Fat Lace Designer Multi Color Velvet Du-Rag
Multi Color: Panther Black - Reverse Side Kings Gold
Logo: Gold Metallic Embroidery King Scorpion 360 Design - Leather Gold Metallic Crown Patch-(Lace)
1# 1 Year Limited Warranty Certificate
SHIPPING INFORMATION: PACKAGE SHIPS IN ONE BUSINESS DAY EXCLUDING SUNDAYS AND HOLIDAYS. PACKAGE INSURED: YES PLEASE SIGN FOR THE PACKAGE UPON DELIVERY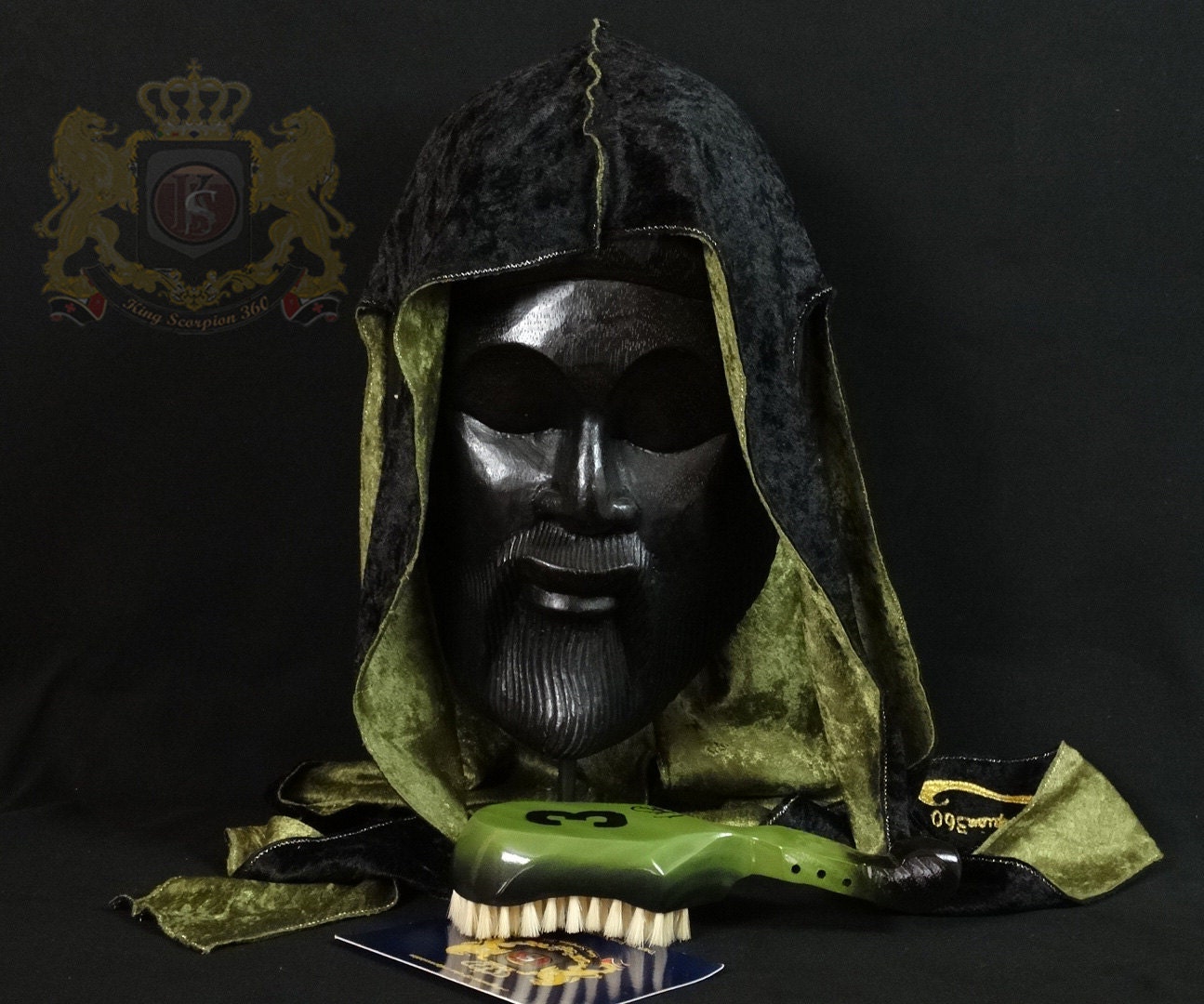 New!! Look Slimmer Design Our Newest Edition King Scorpion 360 Wave Brush Signature Editon By V. Knight, Designer, Artist, And Creator.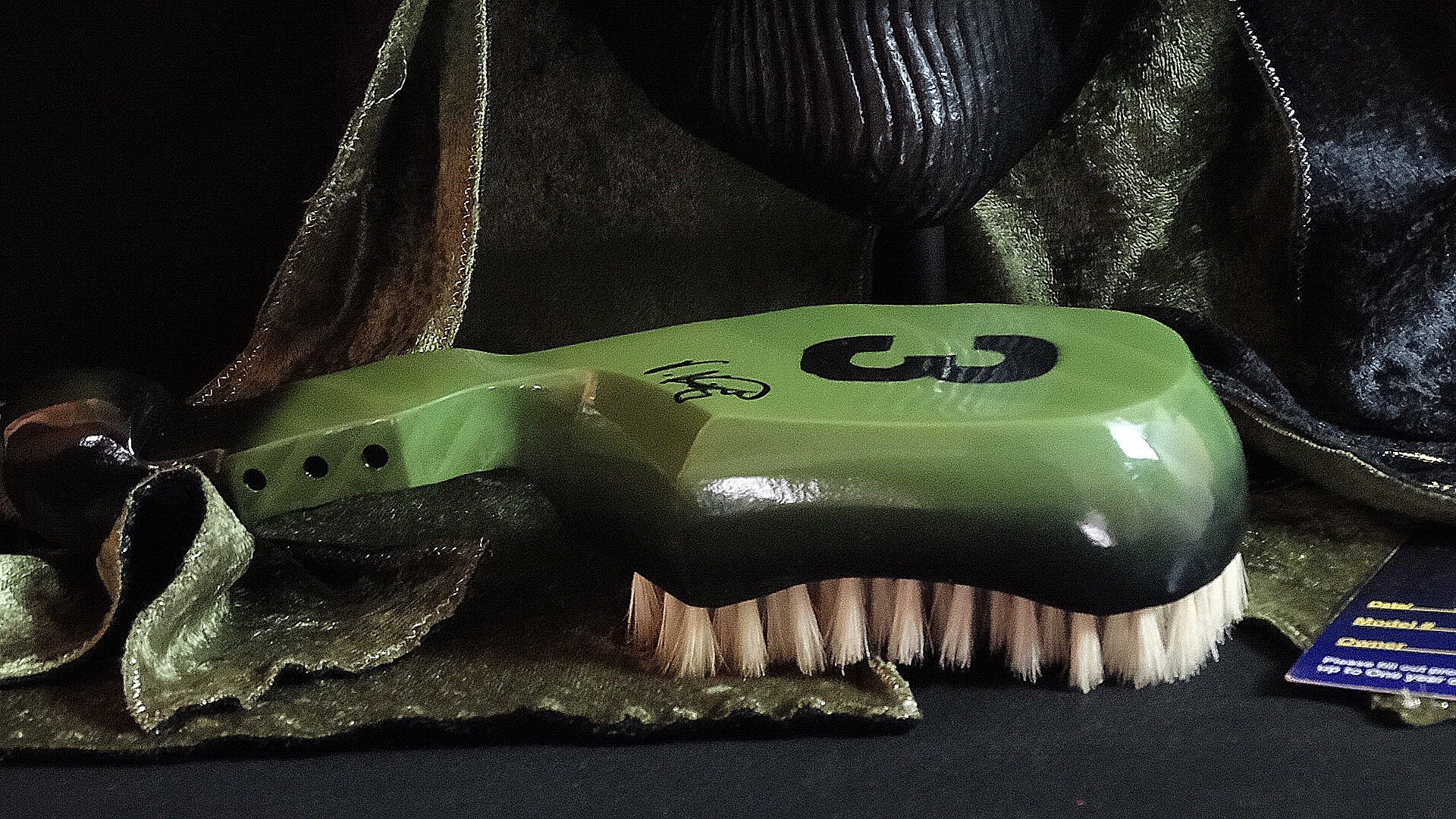 Custom Color: Lime Green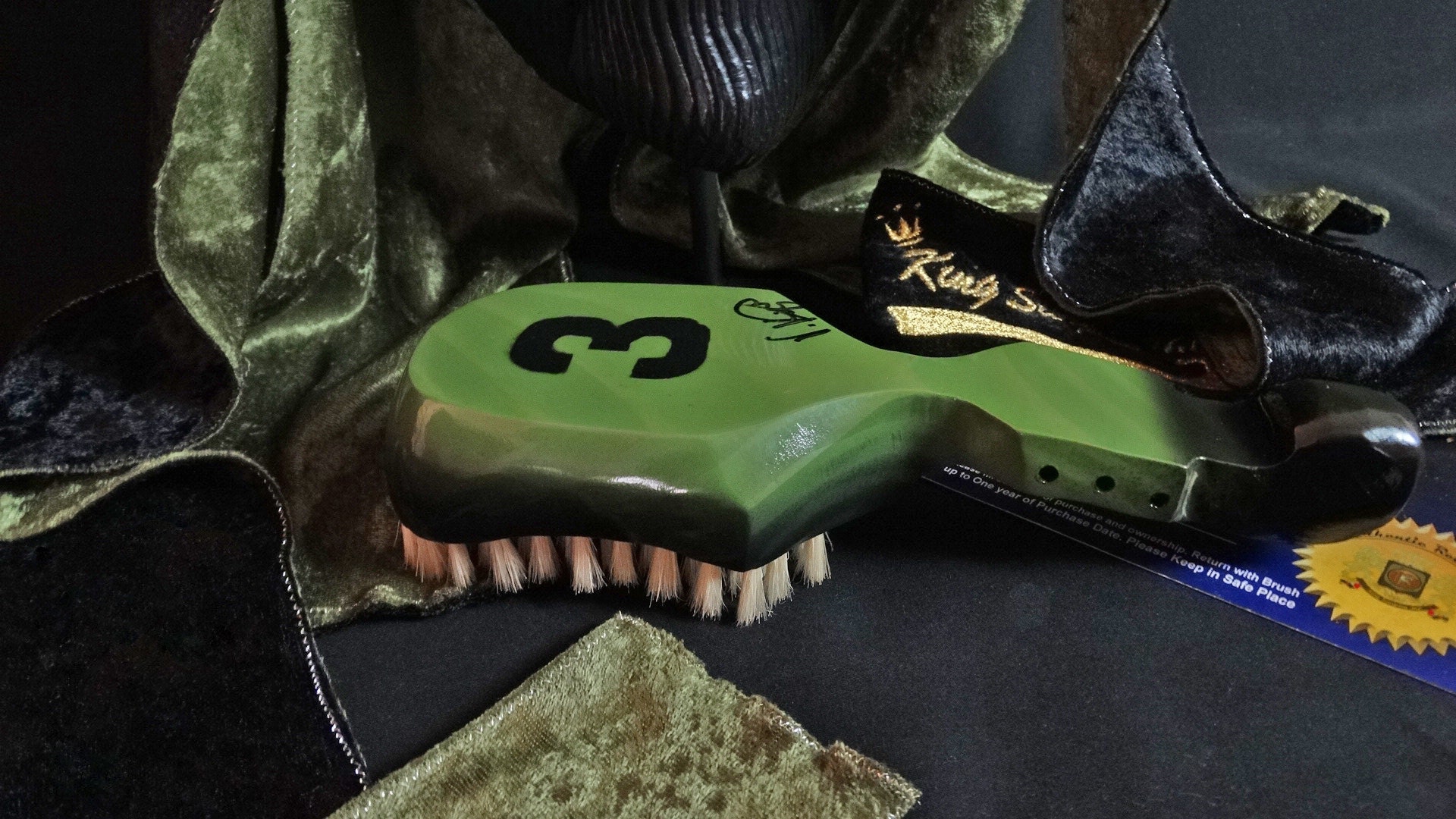 New!! 2018 King Scorpion 360 Lime Green & Black Custom 360 Wave Brush Signature Edition With Glow Effect Logo and Signature By Designer V. Knight - New!! Olive Green/Panther Black Large Custom Fat Lace Velvet Du-Rag With Metallic Embroidery King Scorpion 360 Logo Design.
PACKAGE CONTENT:
1# New King Scorpion 360 Custom 360 Wave Brush - Custom Lime Green & Black Soft 10 Row Loose. Autographed and Signed By V. Knight
Color: Lime Green/Black
Rows: 10 Row Curve
Logo: Glow Effect 3 - Charge in Natural Light for Glow Effect
Hair Brush Type: Long Handle Curved Wood Hair Brush
Bristle Strength: Soft
Bristle Quality: Natural Boar Bristle
Weight: 8oz
Process Time: 1 to 2 Weeks
Shipping: 2 Day Priority ( After Process Time)
(Great For Short 360 Wave Pattern)
1# 1 Year Limited Warranty
1# New King Scorpion 360 Large Custom Double Sided Crushed Fat Lace Designer Velvet Du-Rag By T. Walker
Color: TOP Panther Black - BOTTOM Olive Green Logo: Gold Metallic Embroidery King Scorpion 360 Design